LORWANA PRIMARY SCHOOL 2019 PRIZE GIVING CEREMONY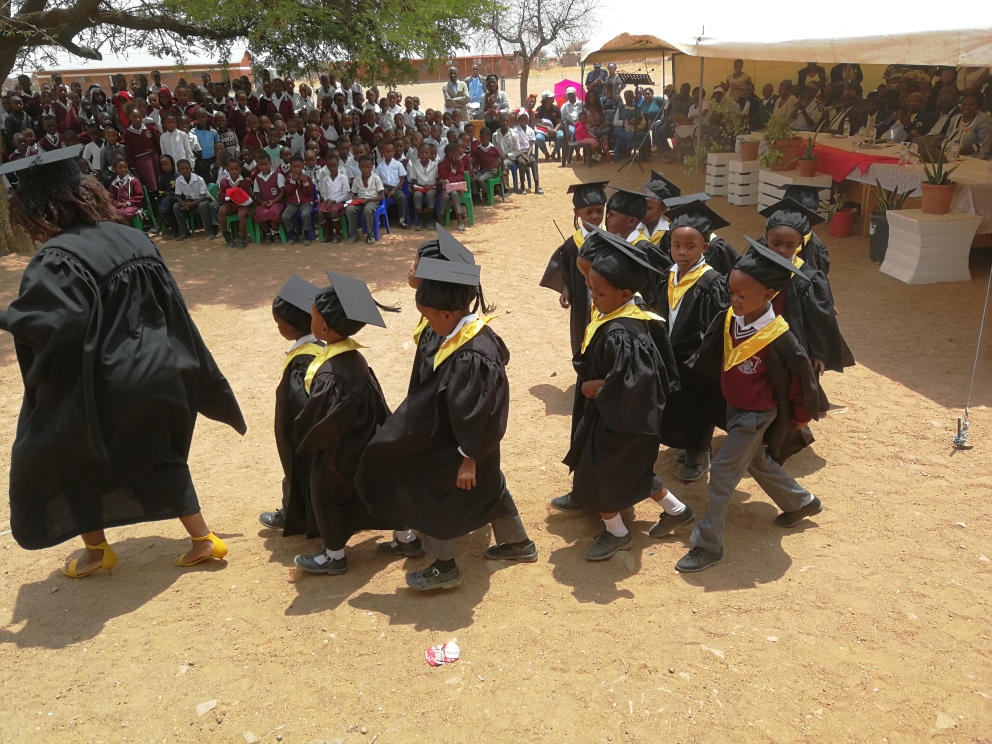 November 1st, 2019 - The Managing Director of Retention Range (pty) ltd was a guest speaker at Lorwana Primary School prize-giving ceremony. Among the dignitaries was Kehitlhilwe Kgwakgwe, Digawana chief, and other members of bogosi, the Headmaster of Lorwana Primary School, Ms Mareledi Thipe, the headmaster of Gathwane Primary School, Representatives from neighbouring schools and parents. The theme for the day was "Hard Work and Commitment: A Recipe for Success".
Mr. Selefo Sabone started his speech by reminding attendees that the prize-giving ceremony was coinciding with the inauguration of the 5th President of Botswana, Dr E. K. Masisi following fiercely contested elections. He further stated that we must be proud as a nation that our elections are always peaceful, whereas in other countries they result in serious conflicts that end in wars and loss of lives. He concluded by donating a RETENTION desktop computer. The donated computer is preloaded with RETENTIONedu educational package. The package is a combination of visual, audio, interactive, practicals and teaching aids that assist students in learning.
Also packaged in the computers is the Syllabi from the Ministry of Education and Skills Development, and the ICT syllabus that will guide the school's computer clubs.
For her part, the headmaster of Lorwana Primary School, Ms Mareledi Thipe, who has been with the school for just 2 years, said that her team is energised to deliver good results for the school. She pointed out that they improved the school results of 2017 from 40 percent to 66 percent in 2018. They intend to even do better this year. She then awarded certificates to some outstanding teachers and support staff. The peak was the award of certificates of appreciation to the standard seven (7) teachers for having demonstrated a high level of commitment by not taking a break in all the 2019 school holidays to ensure that the school attain good results.
It was a fun-filled day with lots of happy smiles from students who were getting certificates and presents. The day was kept alive by entertainment from various school groups including the ever shining preschool graduates.
We were pleased to receive a certificate of Appreciation from Lorwana Primary School.
Back to News Articles